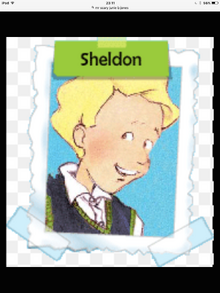 Sheldon Potts is a character in Junie B. Jones. He first appeared in the book Junie B. Jones, One Man Band. He is best known as the crazy character with many stories, many of them about his wild Aunt Bunny who has tattoos and has been to the County Jail. He seems to be afraid of germs as seen in Junie B., First Grader: Shipwrecked. He is somewhat neurotic and somewhat of a parallel to Cry Baby William demonstrated in One Man Band. He has several allergies as mentioned in Junie B., First Grader: Boss of Lunch and Junie B., First Grader: Jingle Bells, Batman Smells! (P.S. So Does May). He likes to say he rules "Sheldon Potts rules". Also, he apparently enjoys racing Mr. Scary when it comes to him needing tissues. He wipes his nose before Mr. Scary can give him any tissues. In Junie B. Jones, First Grader books, he is in the same class as Junie B. but he did not appear in her kindergarten class. He is an acquaintance and sometimes a friend of Junie B., but not so much like Herb, Jose, or Lennie. He and Roger can be friends, but Sheldon showed extreme fear and disgust for him in Shipwrecked when Roger threw up in class.
He is said to be in a romantic relationship with Lucille in the Easter special book.
His last name is Potts.
While usually considered a minor character, he has major roles in Shipwrecked and Dumb Bunny.
He has 2 known uncles: Uncle Vern and Uncle Lou; and one known aunt: Aunt Bunny. Vern and Bunny are married. Uncle Lou shares his first name with Jamal Hall's dad.