Junie B. Jones and the Mushy Gushy Valentime
is the 14th Junie B. Jones book.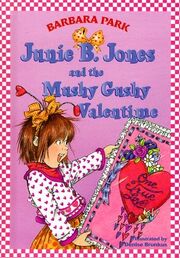 When Junie B. receives a special valentine on Valentine's Day, she tries to find out who in her kindergarten class is her secret admirer.
Junie B. celebrates Valentine's Day, or as she keeps calling it, "Valentime's day". She knows she'll have to make Valentines for every student in the class, "even the big fat stinky ones". But surprise hits her when she receives a special valentine from a secret admirer and asks every boy in her class from William to Paulie Allen Puffer. At the end she finds out it was from Jim, who turned out to secretly like her and just pretends to hate her.
Although Jim turns out to be nice in this book, he still bullies her in the next 2 books, but acts nicer again in the final kindergarten book.
The secret admirer card isn't piled with the rest of her valentines, misleading her to think that someone didn't send her a valentine at first. .