Junie B. Jones and the Stupid Smelly Bus, is a children's chapter book written by Barbara Park and published by Random House in 1992. It is the first book in the original Junie B. Jones series.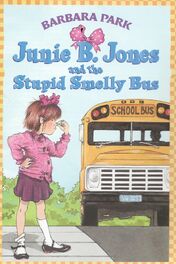 In her own words, Junie B. Jones describes her feelings about starting kindergarten and what she does when she decides not to ride the bus home.
It is Junie B's first day of kindergarten, and her mother tries to encourage her to ride the bus to school. However she hates the bus because she gets picked on by Jim and hates Jim.
Lucille.
Her teacher, Mrs. then takes the class around campus for a tour of the school where they meet the nurse and the principal. As the day goes on Lucille tells her that her older brother says that when she rides home on the bus "kids will pour chocolate milk on her head" causing Junie B. to get scared. When it's time to go home, Junie B. does not get on the bus and gets locked in the school.
So Junie B. hides in the closet for a while before leaving the classroom to explore the school a little, where she tries to hide in the nurse's office and play with crutches. Pretty soon she needs to go to the bathroom but discovers that the staff has already began to lock the doors, and Junie B. couldn't use either of the bathrooms. She then begins to panic and in the heat of the moment she goes back to the office and calls 911, but the operator was no help.
Junie B. then starts to cry and runs outside only to run into the janitor, Gus Vallony, who realizes her situation and takes her back to the bathroom and unlocks the doors much to her relief. After the bathroom they both walk back to the library where angry police officers and firemen where waiting along with the Principal and Mother. Principal angrily reprimands her for hiding after school and causing a massive commotion, and tells her she needs to follow the rules.
Junie B.'s mother takes her home, though she is still mad at her. Junie B. tries to explain that she only hid because of what Lucille told her, but Mother protest saying, that's no reason for her to chose to not ride the bus. However she does show sympathy because Junie B. says there are "meanies" on the bus, so Mother suggest that she should find a friend to ride on the bus so she wouldn't feel alone. The next day she introduces her to Grace, who is also riding the bus for the first time, much to Junie B.'s happiness.