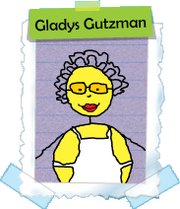 Gladys Gutzman is a lady who works at Junie B's. school. She is the lunch lady, or "Boss of Cookies", as
Junie B.
puts it. She is round, has short fluffy hair, and wears glasses. She hands out cookies and milk as snacks and prepares lunches for the students.
In Junie B., First Grader: Boss of Lunch, she lets Junie B. work in the cafeteria after Junie B. complains that the first graders don't get cookies for snacks, unlike the kindergarteners. In Junie B. Jones and a Little Monkey Business, it is said that kindergarteners have snack tickets to use on milk and cookies.
Junie B. likes her so much, that in Junie B. Jones is a Beauty Shop Guy, she unofficially changes her name to Pinkie Gladys Gutzman (from her favorite color and favorite school staff member) and wants everyone to call her that.